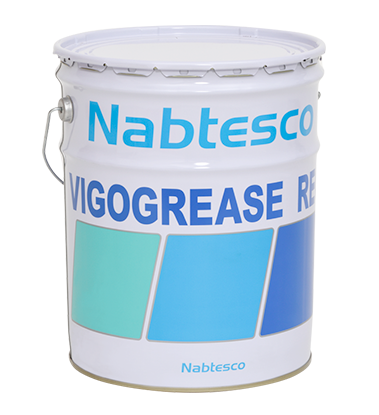 GRASSO VIGOGREASE - NABTESCO
Grasso lubrificante MOLYWHITE RE00 e VIGOGREASE RE0
per Riduttori NABTESCO montati sui principali Robot Industriali.
Confezioni in latte da Kg.2, Kg.16 e barili da Kg.170
As a manufacturer specializing in precision reduction gears, Nabtesco has developed this reduction gear grease for optimum performance.The anti-corrosive ingredient has been switched from barium sulfonate to calcium sulfonate in order to reduce the harmful effects on the environment.

OLIO LUBRIFICANTE RV-OIL
Olio lubrificante per riduttori Nabtesco.
Although the two requirements are usually conflicting, RV OIL SB150 has achieved well-balanced high lubrication properties and oil exchangeability by utilizing optimized additives together with high grade base oil. You can rest assured it can be used with any precision reduction gear RV without any disadvantages.